Find Fulfilling Work at Chemeketa
Join us and help Chemeketa excel in improving the lives of our students and the vitality of our communities.
Open Positions
Why Work at Chemeketa?
You will be challenged to find a college that matters more to its community than Chemeketa means to the residents of Oregon's Mid-Willamette Valley. If you can affirm our vision to be a catalyst for our community to excel in diverse and changing environments, then Chemeketa will be a rewarding workplace to fulfill your potential and contribute your expertise.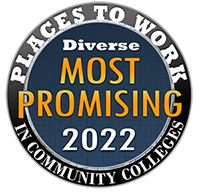 Chemeketa Community College is committed to hiring a diverse faculty and staff who uphold our mission, vision and values. We are a college community enriched by the diversity of our students, staff and community members. Find out more about our commitment to diversity and read President Howard's statement.
Chemeketa has been named as a 2022 Most Promising Places to Work in Community Colleges by Diverse: Issues in Higher Education and the National Institute for Staff and Organizational Development (NISOD). This designation recognizes community and technical college exceptional commitments to diversity (including race/ethnicity, gender, sexual orientation, disability, age, class, veterans, and thought) through best-in-class student and staff recruitment and retention practices, inclusive learning and working environments, and meaningful community service and engagement opportunities. Chemeketa was the only community college in Oregon and one of only 24 community colleges nationwide recognized with this distinction.
Living in the Willamette Valley
Composed of lush rolling hills, evergreen forests, rambling rivers and waterfalls, the Willamette Valley is a beautiful place to live. If adventure is what you're after, the capital city of Salem where Chemeketa is located is less than an hour from glaciated mountain peaks to the east, the Pacific Ocean to the west and the massive Columbia River Gorge to the North.

If culture is what you seek, the Willamette Valley is the most populated area in Oregon and contains it's three largest cities: Salem, Portland and Eugene, which are home to many museums and theaters. The Valley is also known for its vineyards, breweries and fantastic casual dining experiences.